Our high performance low cost single board computers (SBC)
provide easy wired and wireless solutions to a wide variety of applications such as industrial control, automation, equipment monitoring, data logging, embedded web server, kiosk, gaming, biometric security system, point-of-sale (POS) systems etc.
Our wide range of products include flexible embedded CPU modules to well equipped and full featured single board computers that are ready to interface with real world. The embedded computer modules with major components integrated on a pre-fabricated PCB significantly reduces development time for customized hardware. Our industrial grade single board computers features many real world interfaces such USB, RS-232, RS-485, CAN, ZigBee, etc. Powered by 32 bit high performance ARM processors our products support high level embedded operating systems such as Linux. The full open source software environment facilitates rapid application program development. The large selection of packages from Linux Debian distribution includes all core Linux utilities, GCC/C++ compiler, Perl, Java, Perl, MySQL database, Apache web server, MODBUS library, etc. For more detailed information of our embedded products please check our product page.
GECM-9G25/35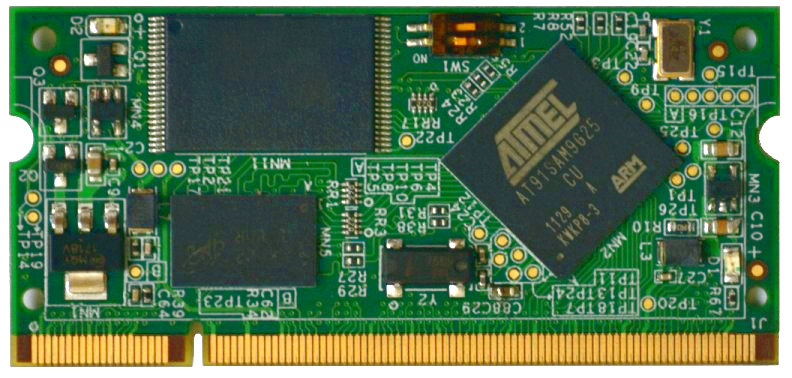 The GECM-9G25/35 SODIMM CPU module is an ideal choice for customers who want to design their own customized hardware but are facing time or budget constrains. The GECM-9G25/35 greatly simplifies the design work by integrating the critical CPU and memory subsystem on a pre-fabricated SODIMM form-factor module. Customer can concentrate on simple implementation of peripheral devices, usually a 2 layer or 4 layer simple board design is sufficient. The GECM-9G25/35 is based on Atmel AT91SAM9G25/35 ARM 9 processor. Running at 400MHz, with 128MB DDR2RAM, 256MB NAND FLASH as standard configuration. The AT91SAM9G25/35 rich features include,
400MHz Atmel AT91SAM9G25 ARM core processor with DSP Instruction Extensions
and ARM JazelleŽ Technology for JavaŽ Acceleration
128 MB high speed DDR2RAM
256Mbyte NAND Flash (optional 512MB ~ 1GB)
10/100 baseT Ethernet MAC
advanced graphic LCD controller with 4-layer overlay and 2D acceleration (9G35)
2 SD/MMC interface with SDHC support
2 USB Host port (one high speed)
1 USB High speed OTG port
up to 6 UART
RTC
Watchdog
GPIO
SPI
I2C
A/D